GUIDED IMAGERY FOR SEXUAL DESIRE CONCERNS
Guided Imagery is a simple, self-awareness relaxation technique that uses positive words, images, sounds, and smells to evoke your inner creativity and activate feelings and experiences in your mind's eye. It uses your inner creativity so that you can change how you are feeling and reach a desired goal.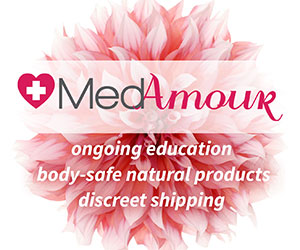 MedAmour is passionate about sexual health and its importance in our overall quality of life. Here, you'll find information on sexual health conditions and the products that can help you cope, recover, and renew your passion. By offering a nurturing, safe and unintimidating environment to assist with individuals' sexual health needs, MedAmour makes it possible for individuals to become educated about their bodies, themselves, and their partners. They provide ongoing education, body-safe natural products, and discreet shipping.
Use promo code: TSTHERAPY
Receive $10 off any order of $50 or more!
Free shipping on orders over $75
---
In compliance with the FTC guidelines, please assume that any/all of the links listed are affiliate links of which Tiffany Stanley Therapy receives a small commission from sales of certain items, but the price is the same for you. Please click here for Tiffany Stanley Therapy's full Affiliate Disclosure.